| | |
| --- | --- |
| | Out of the Darkness - 1985 |
Character: Eddie Zigo
Drama based on the "Son of Sam" murders.
Sheen stars as NYPD detective Ed Zigo, who in 1977 helped crack the "Son of Sam" case. This film not only chronicles a real-life crime drama, but it also provides an absorbing character study of the veteran cop, whom one superior called "the best homicide guy in Brooklyn". It is for that reason that Zigo is asked to join the task force searching for the notorious serial killer who terrorizes the city, murders six people and wounds seven others.
Behind the Scenes
---
A short interview with Martin Sheen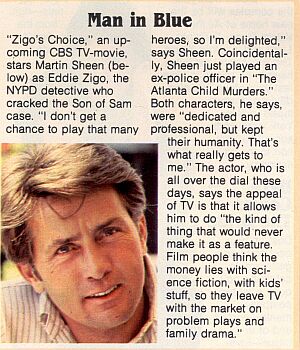 Next role: Shattered Spirits

Archived photographs in this gallery are protected by owner's original copyright.

No infringement thereof is intended.

This presentation is not commercial in nature and is intended for viewing purposes only.