Los Angeles, April 2, 2003
Martin Sheen at Peace Vigil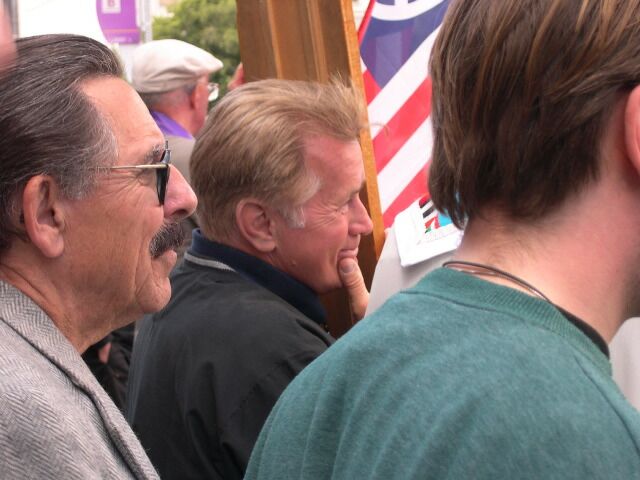 Martin Sheen listens to a speech at a peace vigil in LA, April 2. Photo courtesy of L. Mayberry.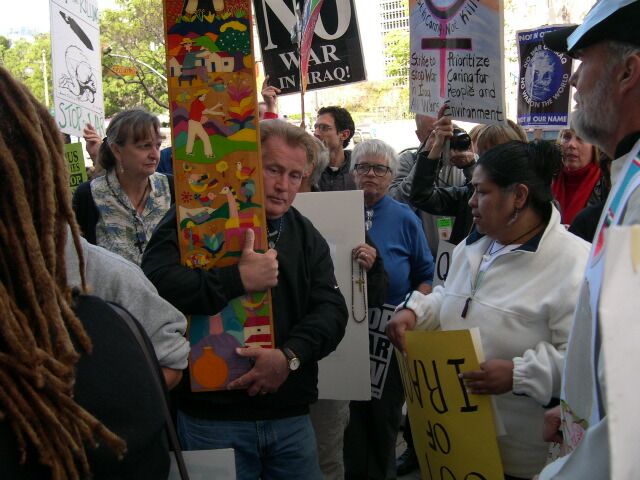 Martin Sheen among other peace activists, April 2. Photo courtesy of L. Mayberry.
Report on this event from From NineMSN, Australia
ENTERTAINMENT

14:05 AEST Thu 3 Apr 2003
Sheen leads anti-war protest


AFP - Actor Martin Sheen led a group of female anti-war protesters in LA carrying blood-stained children's clothing and grim pictures of Iraqi women and children.
About 300 people were on hand to demonstrate outside US federal government offices and about 15 were arrested for blocking access to the facilities, witnesses said.
With peace songs in the air, Sheen, 62, -- who plays a US president on the NBC television series "The West Wing" -- filed past the federal building carrying a cross.
Sheen has been active in anti-war protests in Los Angeles and San Francisco, and prior to the war in Iraq appeared in television commercials urging viewers to try to stop the war.
_____________________________________________________________

Los Angeles, March 26, 2003
Martin Sheen at peace march