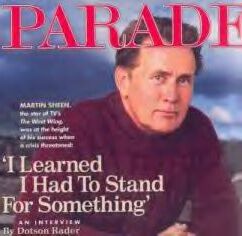 "Being an actor was what I always dreamed of doing, even as a small boy," Martin Sheen said. "I had no choice. I think if I hadn't been an actor, I would have been lost."
That small boy, then known as Ramon Estevez, would later borrow bus fare from his parish priest and head for New York at 18, leaving behind a poverty of his childhood in Dayton, Ohio, to pursue his dream. Today, 43 years later, he has more than realized it. From his acclaimed 1964 Broadway performance in "The Subject Was Roses", through extraordinary parts on TV and in films such as Badlands, Apocalypse Now and Wall Street, to his current role as President Josiah Bartlet on NBC's Emmy-winning drama The West Wing, he has created a body of work that few American performers have equaled.
Yet, in the midst of great success, when he thought he had acquired all that he needed, Sheen discovered that it was not enough. " I was shattered," he recalled, " I had to be made whole again. That became my journey."
Martin Sheen, 61, and his wife, Janet, have lived in the same Malibu house for 32 years. Here, a short distance from the ocean, they raised three sons- actors Emilio Estevez, Ramon Estevez, and Charlie Sheen - and a daughter, Renee, and helped bring up three grandchildren. I visited Sheen in Los Angeles to learn what led to the crisis that almost killed him and how it transformed his life.
I began by asking about his childhood.
"My parents had a very difficult life." Sheen replied. "They were both poor immigrants, my dad coming from Spain, my mother from rural Ireland." Francisco Estevez and Mary Ann Phalen met in Dayton and got married. "They had 12 kids," Sheen added. "Ten survived-nine boys and one girl. I was the seventh son. My Dad was a factory worker, a shy man with a sixth grade education. There were so many of us, and he worked so hard and long that when he got home, he dad little time to share with us. But he was proud of all of kids, and I adored him.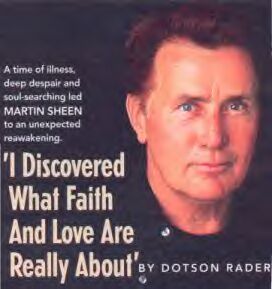 "It was tough after Mother died in 1951. We each had to work to support ourselves. I was a caddy from the time I was nine until I left home, carrying golf bags for wealthy people. That's how my social conscience was formed. The rich were my best teachers: I saw their inhumanity, selfishness, dishonesty, but I never saw a satisfied rich man. They were never happy with themselves. They always wanted more."
Sheen, a good student, was educated in Catholic Schools. "I was an outsider, different from the other lads," he said. "But from the time I was about 7 and started going to movies, I knew who I was, I was an actor, like one of those guys up there on the screen. I just accepted it." Soon after graduating from high school and against his father's stiff opposition, Sheen packed his suitcase and headed for Manhattan, expecting to quickly find work as an actor. He didn't. "I was a soda jerk, a messenger boy, I delivered newspapers," he said. "At times I was broke, got evicted, went hungry, even slept on the subway, but it never occurred to me that acting was not way to go. I never looked back."
He changed his name to Martin Sheen, answered casting calls and finally, after almost a year, landed a $5 a week job as janitor/sometime actor with The Living Theatre, an avant-garde troupe. "When I was offered the job," he recalled, "they said, 'We don't have any money, but we have a friend who has a breadline nearby.' That was fine with me."
In 1961 he won the leading role in the Living Theatre's production of The Connection, a play about drug addiction that brought his critical attention. He also won the heart of a young Ohio art student studying in New York, Janet Templeton, and soon married her. A year later, they had their first child, Emilio. The following year, a second son, Ramon, was born. Sheen supported his family by working in a car wash, occasionally getting roles on TV dramas and daytime soaps.
At 24, Sheen got a major break when he was cast as a returning war veteran in Frank Gilroy's The Subject was Roses, a Pulitzer Prize-winning play that brought him a Tony Award nomination.
"It was the first time I actually made a sustained living as an actor," he noted. "I was on Broadway for 15 months, with a weekly paycheck. Other than caddying, it was the longest job I'd ever had in my life, and it would be until I did Apocalypse Now in the 70s."
Martin Sheen is a stocky man with a handsome face dominated by intense, deeply set eyes. With his quick, combative intelligence and his warm, embracing personality, he dominates a room. Loving contention and speculation, political inquiry and philosophy, he seems a man with the frustrations of a priest on sabbatical, hungry for debate.
In the 15 years after he earned Broadway stardom, Sheen played a variety of roles. He moved to California and increasingly took parts in films and TV movies concerned with social and political issues. In the 1970's he starred in the film Badlands, directed by Terrence Malick. On TV, he appeared in That Certain Summer with Hal Holbrook, played Robert Kennedy in the Missiles of October and starred as a World War II deserter in The Execution of Private Slovik, in addition to host of other roles.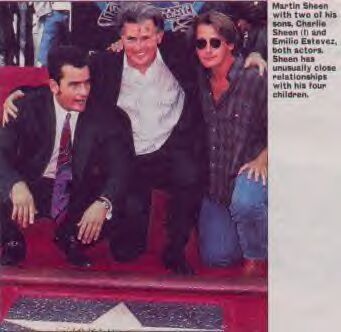 In 1977, his life reached a turning point. In the Philippines, he was making Francis Ford Coppola's great Vietnam War epic, Apocalypse Now, playing Captain Willard, the tormented soldier-turned-assassin. By then Sheen was a bankable Hollywood star, award winning and in demand. He had money, fame, a beloved wife and, by now, four healthy kids. But despite what he had accomplished, his life fell into crisis.
"I was drinking heavily," he explained, "I was confused about who I was and why I was here. I was doing this humongous film that had so much riding on it. I had gotten very low. I didn't feel any sense of control or personal worth. I was a period of despair." Then Sheen, in his 30's, suffered a heart attack and nearly died.
"I got very ill, but you couldn't separate the physical problems from the spiritual," he said. "After I got physically well, I realized how fragmented I had become. I was divided- that was the problem-and when that happens, you're going to dissolve. Something had to give, because I couldn't go on anymore. I didn't know the way back."
In the spring of 1981, Martin Sheen found the way back. "I was in Paris doing a film," he said. "One day I ran into Terrence Malick. He immediately understood the journey I was on. He was very devout, and he became a mentor to me. He gave me books to read, and we talked endlessly.
"Then May Day came, and I didn't have to work because it was a holiday," he went on. "I made my way to the only English-speaking Catholic church in all of Paris, and I pounded on the door. I had had an awakening. I was like a new convert. There, I made a very clear and decisive choice to rejoin my faith. Lost, I found myself again."
I inquired how his renewed faith had changed him. " I learned that I had to stand for something so I stand to be me," he answered, smiling. "Thereafter I began to focus on social justice an activism. In the 20 years since, Sheen has taken part in protest against racism, nuclear arms, war and homelessness, often at considerable personal cost. This June, after his 64th arrest, he was sentenced to three years' probation. At the same time, he has maintained a successful marriage and unusually close relationships with his children-bonds of trust that allowed him to effectively help his son Charlie, 36, fight drug addiction and, with his wife, to embrace as his own three grandchildren born out of wedlock-two to Emilio, on to Charlie.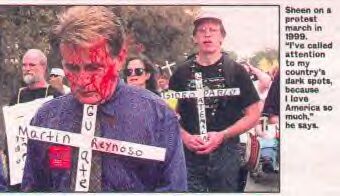 "I've protested," he said, "calling attention to my county's dark spots, because I love America so much. I learned that, to keep your life from becoming self-contained and useless, you have to feel other people's pain and act to help them. That is what faith and love are about."
"Although I play President on TV," he continued quietly, "it's now the most unimportant part of my life. What has happened to our country and our world is far more important. For all my past differences with this President, I know the tremendous burden he now bears, and I pray for him."
"The attack on the World Trade Center didn't diminish my faith," he added. "Despite what has happened, I'm very optimistic about our future, because our values haven't been changed by this tragedy. They've been made stronger."