The Sheen Team
Charlie Sheen was caught up in a whirlwind of cocaine and alcohol. Then his father, Martin, who had over come his own demons years earlier, stepped in. The results: Charlie is sober, successful, in love and about to have a very special guest star on Spin City - his Emmy winning dad.
By: Mary Murphy
In 1977, when Martin Sheen was recovering from a heart attack in the Philippines during the making of Apocalypse Now, his son, 11-year-old Charlie would take his dad, then 36 and in a wheelchair, outside to throw around a baseball. "He would get me in the sun," recalls Martin "and that was my exercise." Every day, Charlie would move his dad's wheelchair back a few feet; the simple game of catch became a major step on the road to Martin's recovery. And the farther the father and son threw the ball, the closer they became. Finally Martin, now 61, had to stand up to catch a fly ball. "It was," he says, "pretty incredible."
Years later, Martin was able to repay his son by leading a series of interventions to save Charlie, whose exploits with alcohol, drugs and women had eclipsed and acting career that included starring roles in Platoon (1986) and Wall Street (1987).
On May 20, 1998, Charlie overdosed on cocaine and alcohol and was rushed to the Los Robles Medical Center in Southern California. While some press reports speculated that he had suffered a stroke, his father - a political activist who regularly makes news by protesting such issues as homelessness and nuclear arms - decided to tell the truth in what was the most public act of tough love ever seen by coddled celebrities in Hollywood. Use of drugs was a violation of Charlie's 1997 probation for pleading no contest to allegedly assaulting a female companion, and Charlie was furious at his father. But the revelations of Charlie's addictions - which lead to rehab - have ultimately had a healing effect on both of their lives. Martin has learned, in his own words, to "let him go," and Charlie, now 36, had remained sober.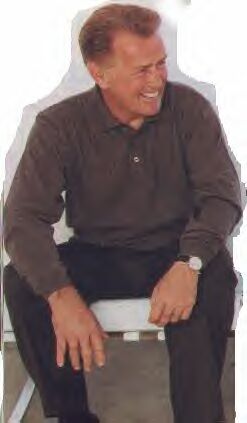 Today the award-wining father and son (martin had won a Golden Globe and earned tow Emmy nominations for his portrayal of President Josiah Bartlet on The West Wing, and Charlie won a Golden Globe this year for playing Deputy Mayor Charlie Crawford on Spin City) are buddies; Martin affectionately introduces his son to everyone during a photo shoot for their joint appearance this week on Spin City, in which Martin guest-stars as Charlie's con-man father.
This is not the first time the Sheens have worked together: They appeared in The Execution of Private Slovik (1974), Wall Street (1987) Cadence (1991, which Martin directed) and in a brief funny scene in Hot Shots! Part Deux (1993). But the Spin City episode marks the first time they've acted together since Charlie's rehab.
"They have a remarkable relationship," says Spin City executive producer Gary David Goldberg. "Because of how high the stakes were - and how on the edge they were - Martin went to extraordinary lengths to save his boy. [So] Charlie really wanted [Spin City] to be a great experience for Martin."
Sitting down with TV Guide, the Sheens unhesitatingly discussed their past problems and their family (Martin, who was born Ramon Estevez, and his wife Janet Sheen, and artist, have been married for 40 years; they have three other children, all actors who use the Estevez name: Emilio, 39, Ramon, 37, and Renee, 34). Also covered, of course, was Charlie's recent engagement to actress Denise Richards (Wing Things, The World is Not Enough).
At the end of the interview, Charlie explained their candor: "We may be able to help other fathers and sons who think things are hopeless. Because that's how we had felt - hopeless."
What was it like with your dad on the Spin City set?
Charlie Sheen: I was fraught with anxiety. I [had] to step up to a level to show him that everything he sees every week isn't all just editing.
What about you, Martin?
Martin Sheen: I had the same feelings, worrying I would bring the show down. I had a lot of anxiety.
A veteran like you?
Martin: I'd only done one other sitcom, one episode, years ago [Murphy Brown, for which he won an Emmy]. This timemy heart was pounding. But I just kept telling myself, "Stay calm."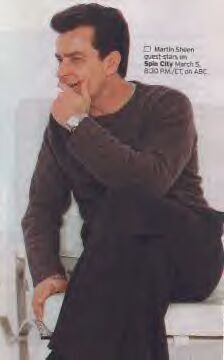 What is the characters' relationship?
Charlie: Father and son. And it is a pretty strained, damaged relationship. It did take us back to a time when we were not the best of friends: [my] teens and [young] adulthood. But not in the last four years. At the end of the episode, Dad's character talks about how much he loves me. So we got a couple of decades of our real relationship into a few scenes.
Taking the role on Spin City was a big risk for you, Charlie, coming from where you were to replace Michael J. Fox.
Charlie: My gut told me to take the risk. But I was afraid of failure.
How long had you been sober by then?
Charlie: A year and a half.
Your character makes self-deprecating fun of his - and by extension your own - past.
Charlie: Gary [David Goldberg] called me and said, "Do you have a problem with that?" And I said no because I've been the butt of the joke for so many years. I'm tired of just being the punch line. Why not be in on the joke from the get-go? I said, "Well, how far do you want to go? Because we've got to say on the network. We don't want to put this thing on cable, you know?"
Meaning sometimes your life wasn't exactly fit for network standards?
Charlie: It's definitely cable fare, yes. It's even pay-per-view on some levels.
So there you were with a cleaned-up life, and you became the lead actor in a TV series. You must have been scared.
Charlie: It was absolute terror - I don't really remember much about the first episode. By the second episode, I was still in a panic. So I called Dad.
Who said?
Martin: "You don't leave the building till the play is done."
Which means?
Charlie: Embrace it.
And you did - culminating in winning the Golden Globe award in January as best actor in a comedy.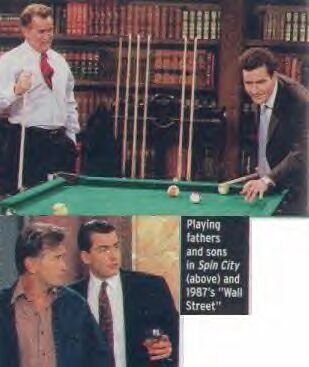 Martin: I was on the set the next day for my guest shot. It just worked out that way. And when he walked in, the entire cast gave him a standing ovation.
Martin, what are your thoughts on Charlie's turnaround?
Martin: He's my hero. I don't know anyone who has overcome a more difficult problem and got their life back [the way] Charlie [has]. What he had achieved in the last four years is astonishing. It is the greatest miracle of my life.
A miracle in which you played a key role.
Martin: I did what any parent would do in the circumstances. You could not not do that and say you loved a child. His life was at stake.
You had tried to intervene in 1990 to get Charlie to go to rehab.
Charlie: It was Dad's birthday, August 3. They said it was a party for him, but it was a party for me. They went around the room and gave me reasons why I needed to be sent away. I was on the fence. But the straw that tipped it was when Dad said I had a phone call. It was Clint Eastwood [with whom Charlie had just finished working in The Rookie]. I heard his voice. He said, "It's only for 30 days. Then you get the rest of your life. Go get better."
So you went to rehab and stayed sober for a year. What went wrong after that?
Charlie: Everyone kept saying, "Just get a year." I didn't go to meetings. I didn't read the book. I thought, "Do a year, get everybody off your back and sneak back into your old lifestyle."
On day number 366, you drank again?
Charlie: I was at Nick Cage's house and he had to go out, so I found a beer and drank it, celebrating my year. Everything bad the experts told me would happen, happened.
So before your latest rehab, how much were you drinking?
Charlie: Couple of bottles a day.
Bottles of what?
Charlie: Vodka. [And a] lot of cocaine. I mean, now it doesn't sounds believable. But I'm the guy that did that.
Did you shoot cocaine?
Charlie: Couple times, year. But I never did heroin. When I was 9 years old, I saw one of those shows, Scared Straight. There was a heroin part. I thought, "Two things will happen. I'll do it once and die - seriously - or do it every day for the rest of my life." So I just drew the line.
In 1998 you overdosed on alcohol and cocaine. What went wrong that night?
Charlie: I was hopeless. I genuinely believed there was no way out. I had made countless vain attempts to stop the madness and couldn't. So I just did more of everything. I didn't go under or black out. But I felt it, and I thought, "My God, I'm dying." I called 911.
Did you want to die?
Charlie: I don't know. I don't think in my heart I wanted to die. I wanted the person I had become to die.
You had established quite an image of a party boy; you always seemed to be talking about sex - either free or paid for. [At the 1995 trial of Hollywood madam Heidi Fleiss, Charlie admitted spending more than $50,000 for her employees' services.] Why did you need to pay for sex?
Charlie: I was lonely. The loneliest guy in the world.
You didn't think you could get a date?
Charlie: Lonely - and on drugs. It's a bad combination.
But you were also rich and famous.
Charlie: Yeah, it didn't fix me.
Do you ever worry that maybe you'll take drugs or drink again?
Charlie: I think about it, sure. But I can't justify, today, trading what I've earned and what's been given back. I can't justify trading that for a thrill or a departure that ran its course.
Martin, you had problems with drinking when you were young. How did you deal with them?
Martin: I came to a realization of my problem over a series of events and a period of several years. I got very ill when we were filming Apocalypse Now. Damn near died there. And that was my wake-up call.
Was the heart attack a result of drinking?
Martin: No, not specifically drinking. It was part of the fragmentation that my life was at the time. I was shattered. It was a long time coming back together.
Those days still haunt you. Recently a newspaper called you "a former carouser."
Martin: It's not the opinion of myself. I had my bouts. That was only a reflection of the problem. That was not the [whole] problem.
How long did it take you to turn yourself around after the heart attack?
Martin: Four years. Of gradual self-work. And it culminated with my return to Catholicism. Spirituality is what I was searching for. That was at the core of my recovery.
So you didn't end up in a hospital like Charlie?
Martin: I wasn't using drugs. I wasn't in any imminent danger. I was in for the long haul, which is even more dangerous, because so often that moment of clarity is not recognized as such. So I'd had the attach in '77. And [in 1981] I had gone to India to do a part in Gandhi. I was deeply moved by India. And I immediately went to Paris for Enigma, with Sam Neill. I had a lot of free time, so I was given a great gift: time to reflect.
You were lost?
Martin: Well, I was about to be found. I wanted to be found. I was sending out signals. And finally I went to this church [in Paris] called St. Joseph. And I asked one of the priests to hear my confession that day, and I told him I'd been gone for a long time and wanted to come home. That was almost 21 years ago.
Unlike Charlie, you were able to keep you problems relatively private when you were younger.
Martin: Fortunately, I was arrested under my real name, so no one knew. My driver's license says Ramon Estevez. So that's what's on the record.
You were arrested when you were young?
Martin: There were actually three incidents that I'm not very proud of, and I ended up in jail. For my own good, thank God, they were smart enough to get me off the street. But I was not known then.
Once you had established your career, what was family life like?
Martin: I hate to use the term hippies. But we were very liberal, and we were always searching for teachers and ways and things. I remember one of Charlie's teachers told me that one day she came out on the playground with some candy, and he refused it because he said we were macrobiotic. We always had a new gig going, a new teacher. We'd be taking them off to some
Charlie: Bizarre thing.
Martin, I understand you and your wife were nudists.
Martin: I don't remember being a nudist.
Charlie: Well, it was only, like, a week.
Martin: That sounds right. [They both laugh.]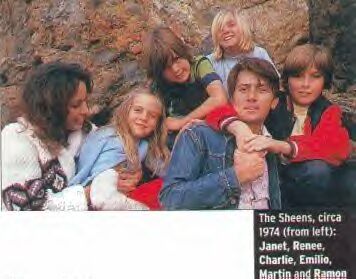 What was Charlie like as a kid?
Martin: The shiest one in the whole family. I mean, it was hell to get him to go to school. He didn't feel comfortable outside the family circle.
Were you all close?
Charlie: It would be hard to draw a picture of the typical American family through our group. We'd go on locations all over the world. I think the reason that we're such a tight group and the reason that [my parents are] still married is because of the location trips, because of keeping the family together, because of always insisting they give him his plane ticket plus five.
The first time you worked together was in The Execution of Private Slovik, in 1974.
Charlie: How about the New York Times today, which says that I costarred with you in The Execution of Private Slovik and that that was when my youth was compromised? What a bunch of crap. I was in two shots. And my childhood's
Martin: [Chuckling] Still going on!
Martin, do you feel responsible for Charlie's troubles?
Charlie: It wasn't your fault, Pop.
Martin: Well, I guess I don't have any more guilt. I wished I could have been there for him and all the children in the rough spots. I wished I would have spoken up. Who the hell doesn't? But you can't be present every minute of their lives.
What could you have done?
Martin: I wished that I had been a practicing Catholic during those formative years so that they could have had a sense of spirituality or religiosity, a faith to fall back on.
Do you feel guilty because of your career or your problem with alcohol, that somehow you passed it on to him?
Martin: No. I hesitate to say this, but if I had to do it all over again, the only thing that I would have done differently, basically, is that I never would have hit them or imposed any form of violence on them - whether it was physical, emotional, spiritual. That's the biggest regret I have with my life. And I've never met a parent that didn't have that.
Charlie: He had this whole image that he was not a good father. He was a great father. He was very loving and compassionate. He was very inspirational.
What about his anger?
Charlie: Sure, he would rage. But we never felt like we were going to be beaten or tortured or like our lives were in danger. He was too good a guy to take it to that level. I got hit twice: just a spank on the bottom. So what?
How has your relationship changed in the past four years?
Martin: I let him go.
Charlie: That was key.
Martin: I had to get out of his face, get away from him. Leave him alone. Don't check up on him. Don't call him. That was tough - for both his mother and me.
Charlie, what's it like to go through all the things you went through on such a public level?
Charlie: My heart goes out to my fiancée, Denise, because she's just the sweetest gal I've ever met, outside of my mom. And I know she reads things about her beauThat's when it hurts, when she has to be taken back through the quagmire.
How did you find a woman who accepted your past?
Charlie: I have no idea. What a miracle.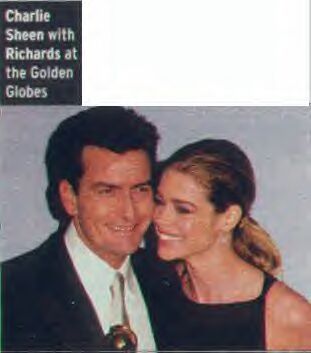 How did you meet Denise?
Charlie: We met on the film Good Advice.
Did you know right away?
Charlie: I knew I liked her.
At the time, were you lonely?
Charlie: I was happy and content, and my life was complete. I was finally alone but not lonely. I'd work, come home and read or watch sports and go to a monthly dinner with my buddies.
And then Denise showed up as a guest star on four episodes of Spin City.
Charlie: And it's like God was saying, "All right, fine. You're not going to go out? Well, I'm going to put somebody in your workplace that you can't avoid."
What attracted you to Denise?
Martin: [Smiling] Have you seen her? What's not to be attracted to?
Charlie: She's a good listener. She's got a gigantic heart. She's beautiful.
How did you ask her out?
Charlie: She'd kill me if I said this, but she recommended that we go out and have dinner. Which she had never done before. Sorry, Denise.
Martin: Maybe she was hungry.
Charlie: She was hungry, yeah. We had Zone-based food and watched the Barry Bonds home-run chase. So we'll always know that we got together on October 4.
Martin: That's also the feast of St. Francis of Assisi, I thought as a passing Catholic, I might say.
Charlie: And then we had to keep it a secret because we got together right away, and I didn't want to compromise her professional environment - but everybody knew, because it's really hard to hide that kind of a thing.
When are you getting married?
Charlie: Sooner rather than later. [Martin Sheen gets up to leave. He is on his way, he says, to a self-help group to stop smoking.] You want a patch? Want some Nicorette gum or something?
When did you start smoking, Martin?
Martin: In December. I was going through a difficult period. And Charlie had all the answers.
So now Charlie is the one giving you advice.
Martin: Yeah, Charlie's giving me advice.
Charlie: Imagine that, huh? [His father leaves.]
Your dad says he is happy for you. How happy are you for him, with his success on The West Wing?
Charlie: It's great. Finally. I took everybody this long to recognize this guy's talent? He busted his ass for so long and never played the Hollywood game. He didn't go to the parties, he didn't hang out with the women. He wouldn't do it. It's not why he became an actor. And he's finally being rewarded for fighting a good fight.