Martin Sheen Joins Antiwar March
LOS ANGELES -- Actor Martin Sheen joined an antiwar group Wednesday for a march through downtown Los Angeles.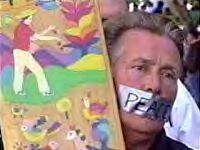 Sheen did not make a statement during the vigil.
During the march he had duct tape over his mouth with the word "peace" on it.
In addition, he carried a cross.
Members of different faiths took part in the march. Three members of the march were arrested. Information was not available on whether Sheen was partaking in the group's fast.
The group plans to meet every Wednesday for a prayer vigil and one-day fast for the duration of the war.
___________________________________________________________
Associated Press Pictures from the Vigil
Wed Mar 26, 1:41 PM ET
Actor Martin Sheen at a prayer vigil for peace and the safe return of U.S. soldiers at the Federal Building in Los Angeles, Wednesday, March 26, 2003. (AP Photo/Nick Ut)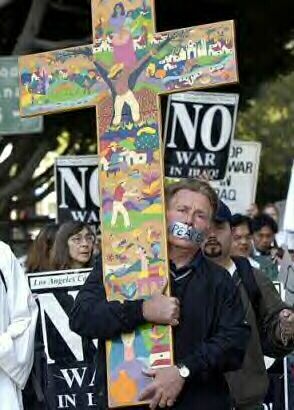 Wed Mar 26, 1:39 PM ET
Actor Martin Sheen carries a cross as he marches in a procession around the Federal Building in Los Angeles during a prayer vigil for peace, Wednesday, March 26, 2003. (AP Photo/Nick Ut)
________________________________________________________
Next Page: April 2, 2003-Peace Vigil in LA