Original content from St. Anthony Messenger, May, 2000.
Article hosted by MartinSheen.Net.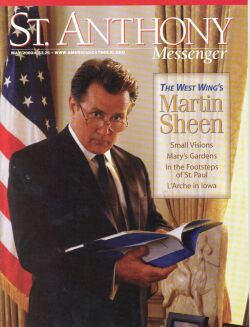 Martin Sheen:
Catholic President on Prime Time
By Greg Heffernan
Like the character he portrays on The West Wing, Martin Sheen strives to blend his faith with his career...
Martin Sheen, who has been in over 140 films and TV miniseries, isn't giving up his political activism in real life just because he's playing the president of the United States in one of the most acclaimed series on TV.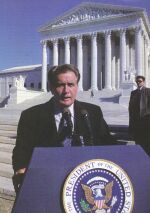 Click for larger image
The actor is no stranger to films that center on the White House. In theatrical films he played the chief of staff in The American President and the president in Spawn. His TV miniseries roles include playing John Dean in Blind Ambition, President John Kennedy in Kennedy and Robert Kennedy in The Missiles of October. And now he's winning praise for his portrayal of President Josiah Bartlett on NBC's The West Wing, the first TV series with the president as a running character.
But my memories of Martin Sheen go back to another setting. We once belonged to the same small parish in Malibu, California, where I was a youth minister. I recall seeing him there in the roles of lector and usher. He proudly sang "Be Not Afraid," which he describes as his favorite song because he "bonded with the lyrics." I will never forget seeing him embrace Carroll O'Connor after Mass one Sunday. The look between these two famous people crossed all boundaries of human understanding: They were two fathers who had struggled deeply and painfully with sons who had been victims of drug addiction.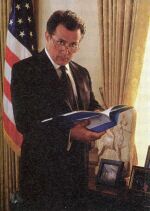 Click for larger image
In Martin's work with the parish youth group, he once spent three hours discussing, debating and sharing his thoughts with the teens on everything from arms control to abortion to working with the poor. He later described this experience as exhilarating and exhausting. When the youth group went to Mexico to work at an orphanage for children, Martin encouraged me to let the children in Mexico minister to the teens from Malibu -- not just the reverse.
Even though he was a celebrity, Martin Sheen wasn't afraid to be an involved member of the parish who actually attended parish council meetings and exemplified what pastors crave from the flock: someone trying to live his faith. He once said to parish council, "We, the congregation, became Christ at the Mass....We were called to act like Christ inside and outside the church."
When the Keep Christ in Christmas parish committee regularly put on dramatic readings of the Infancy Narratives near a major intersection in town, Martin was always there to narrate while several of his grandchildren played angels and shepherds.
We worked side by side delivering food to poor families in downtown Los Angeles during Thanksgiving. And he was also a regular at the St. Joseph Soup Kitchen in nearby Venice, where homeless men, women and children were fed. He doesn't brag about his good deeds, but his actions have inspired others.
On the Set
Recently I met Martin Sheen again on a balmy Southern California day in Burbank on Stage 18 at the Warner Brothers Studio where he was filming The West Wing. Behind a soundproofed steel door lies a labyrinth of historically recreated rooms decorated with famous replica paintings from the walls at 1600 Pennsylvania Avenue. Teddy Roosevelt and Thomas Jefferson gaze out from framed portraits.
Members of the crew are sleeping on sofas in the staff offices -- they worked late the previous night. This takes away some of the mystique but gives a sense of the frenetic workload of a Hollywood film crew.
Martin Sheen is in the Oval Office chatting with the director about the next scene. Moira Kelly, who plays the president's political consultant, is also there. (The two actors also worked together in the Paulist film Entertaining Angels: The Dorothy Day Story.)
Martin jokes with other members of the cast and crew as the hairstylist lightly sprays his hair and the gaffers quickly put the finishing touches on the lights. "We all work together," he says. "Dean Dillon takes care of the camera work. Aaron Sorkin takes care of the writing. The rest of the cast and crew fill in all the blanks."
Then he explains how he landed the role of President Josiah Bartlet. "I was never supposed to do this series," he says with a grin on his face. "It was originally only about the staff at the White House. The president was just a minor character. But after I did the pilot, they looked it over and saw what a great set the Oval Office was. Well, Aaron Sorkin, the creator of the show, came back to me and asked if I wanted to do the series. So I had to think about it. We renegotiated the terms and here I am."
When he was offered the role, Martin consulted with his wife, Janet. She's been with him through thick and thin, and he trusts her judgment implicitly.
He explains how filming a TV series differs from doing a film: "The time commitment, of course, is much greater regarding the year's shooting schedule. With series these days, you often have a chance to explore a character and actually let it grow on you. For an actor, that's very exciting. Believe me, nobody was as surprised as I was when I did this show.
"In fact, all of the credit goes to Aaron Sorkin and his writing," he continues. "Aaron wrote the script for The American President, which I did, and I've only grown in my admiration for him." In the pilot episode for The West Wing, "His script had me walk in the Oval Office as the newly elected president. I stare around the room and wonder what the next four years will bring. Well, I was trying to do this and that and make the president look very regal and, unfortunately, very stiff. So Aaron pulled me aside and told me I looked like I had the world on my shoulders. He said, 'Martin, thats not the character. This man loves being president.' And bam! Well, that changed everything. That was it. I then knew where to find the character."
Characteristics in Common
He smiles when he describes the president's character: "It's me. Originally, when I took the part, I knew he was probably a Democrat, a liberal and an intellectual -- things I identify with. Trust me, I do have Republican friends. But no matter who this president is, an actor wants to know what makes the character tick. And that's what Aaron told me: 'He's you, Martin. Make him you.'"
Acting involves self-exploration, he says. "Acting is not finding what the character is feeling but finding what you the performer are feeling, and that is the exploration."
Another trait common to the fictional president and the actor who plays him is that they're both Catholic.
In an episode that focuses on the death penalty, the president, who's shown praying the rosary in his office, asks guidance from a priest he knows. The program ends with the priest preparing to hear his friend's confession. Susan Stewart gave this episode the highest score of 10 in TV Guide and says, "The timing is perfect for this addictive new series, which cunningly balances the ruffles and flourishes of the presidency with the chaotic workings of the White House staff -- and glorifies both. Martin Sheen is a brilliant president; he's too good to be true -- but that's a tonic, considering recent realities."
Martin sees the series not so much as a political statement but more as a drama about a group of human beings thrown together to do a job. The series focuses on how they struggle to fulfill their responsibilities. "We're doing a two-part episode about how my character became president because, although he likes being president, he really didn't want the job. He sort of fell into it. He was an intellectual from New England. He read Latin. He was a professor -- sort of a Woodrow Wilson type. And his campaign manager becomes his chief of staff after he wins the election."
Martin refers to his character like a lifelong friend, perhaps a compilation of the many roles he has played over the years.
"If you've been watching the show, you know we're doing stories about the president getting ill and having to face his own mortality," he notes. "He's discovered he has multiple sclerosis, a degenerative disease of the central nervous system. More importantly, the show is revealing how he faces his condition with the members of his staff, how his relationship is defined with them. For example, in one episode, we discover the president hasn't told anyone about his MS because it's very difficult for him to reveal this side of himself and face the big question: What's beyond us in this life? So I had to really go into myself to deal with my own fears about intimacy and death."
Meeting Mother Teresa
Martin Sheen hopes the character he plays on TV is a humble man but questions what being humble really means. "It's something I've wrestled with all my life. It's something I think people really admire in powerful people, whether it is Gandhi or St. Francis of Assisi or Mother Teresa."
He shakes his head and says, "My son Emilio taught me something about humility when I was making the film Gandhi over 15 years ago. I had a week off from filming and I wanted to go to Calcutta to meet Mother Teresa. Emilio looked at me and said, 'Dad, you just want to meet her so you can say you met her.' And he was right. So I decided it was more important to stay and spend some quality time with my boy.
I've never regretted that."
Martin met Mother Teresa "in Rome several years later. A group of us had gone to help speak out about the Persian Gulf buildup in order to prevent a bloodbath there. A lot of people don't know the Pope spent hours and weeks and months calling and trying to bring about a peaceful solution. The 750,000 children who have since died in Iraq, because of Sad dam Hussein and our government's sanctions against his government, is just terrible. So Mother Teresa showed up at the request of the Pope. She was an extraordinary woman and extremely humble. That was her power. It was Jesus' power. You know, we walked into the Vatican chapel and there was the Pope kneeling before the altar. Suddenly, we heard someone weeping, and then we realized it was John Paul sobbing over the tragedy of what was about to happen in the Middle East."
Motivation Behind Activism
Martin Sheen has become more involved with social and religious causes over the years. I still remember Martin and actor Ed Asner getting arrested on a monthly basis at the Federal Building in Los Angeles for protesting American aid to El Salvador. They firmly believed there was a connection to the assassination of Archbishop Oscar Romero and the murder of numerous Catholic clergy and Salvadoran citizens. Once after Mass I told Martin that I admired his political activism, but that getting arrested was something I wasn't quite ready to do. He shook his head and replied, "Don't worry about it, Greg. I wasn't ready to do it until I turned 40."
Martin, now age 59, is a virtual dynamo of social activism, and Pax Christi recently recognized him for his humanitarian work. He's still a spokesman for the United Farm Workers throughout the country, and he can be seen picketing with Franciscan friars outside the Nevada Nuclear Test Site near Las Vegas.
According to The Cincinnati Enquirer, one of Martin's conditions for doing The West Wing included "time off for the protest rallies and poverty marches that are important to him." Indeed, last November he was among the over 3,000 people who marched on Fort Benning to protest human-rights abuses in Latin America which they said are committed by graduates of the Army's School of the Americas.
What's his motivation? "Life," he explains. "You can't live it without seeing the need to do something. And the underprivileged are always in need. That's why the Church constantly strives to be there for them. St. Francis found his purpose in being poor. It is the antithesis of what most of us aspire.
"When Jesus was born, he was visited by shepherds," he says. "He was a shepherd. When you travel the world, you discover being a shepherd is the job nobody wants. Healthy men aren't shepherds -- women, children and cripples are. People who can't get any other jobs are shepherds. So I believe as a middle-class American we will find Christ mainly in the poor. Thats why I admired Cesar Chavez. He was dedicated to poor migrant workers in California, trying to improve their life."
Several times when Chavez was fasting and near death, Martin went up to Delano, California, to be with him. When Chavez died, Martin was one of the pallbearers. Even though he couldn't stay for the entire funeral service, he remembers it vividly: "I actually saw it on television. There was the casket. LA.'s Cardinal Roger M. Mahony did the Mass. When it was finished, they wheeled the box out of the church and closed the doors. Bang. Cesar was gone. Then, suddenly, people began to praise Cesar, saying how great a man he really was and all the things he had done for them. But the reason they didn't say it while the coffin was in the church is they believed he would get a swollen head and wouldn't get into heaven."
He explains the logic behind this. "A man should do good deeds, but you shouldn't hear about it 'til later," he says. "Nobody should really know what you've done. Or, as Jesus says, 'Your right hand shouldn't know what the left hand is doing.' After a man's gone, then you should hear about his good deeds."
Something Sacred
The Christmas episode of The West Wing dealt with this theme. Toby Ziegler, director of communications at the White House (played by Richard Schiff), learns that a homeless man died while wearing a coat that Toby had donated to charity. Toby discovers that the man was a Korean War hero and uses the president's name, without permission, to arrange a funeral ceremony at Arlington National Cemetery. The president learns what Toby has done, asks for an explanation and is moved when he's told the details. Mrs. Landingham, the presidents assistant (played by Katherine Joosten), reveals that her two sons died in Vietnam. She accompanies Toby to the cemetery.
Martin explains why he loves this episode: "When that episode was originally written, the president was supposed to go to the cemetery and attend the ceremony for the homeless vet." It was changed because "it took away the power of Mrs. Landingham and Ziegler, who were deeply affected by the incident: a woman who has lost two sons and a man who gave this guy clothes to keep warm. Had the president been there, it would have taken away the poignancy of the scene. His presence makes everything too big -- the Secret Service, the press. And that's why I like this show. We try to play honest moments with real characters."
Martin Sheen's enthusiasm for his profession is quite obvious: He clearly loves his craft. Perhaps the irony of life is that actors are often given roles that reflect actual parts of themselves. Behind all the hype and the makeup, there really is human drama going on in front of and behind the camera, even in Hollywood.
---------------------------------------------------
Click here to see larger versions of all images from this article.
Copyright MartinSheen.Net. All rights reserved.
Archived content is protected by original copyright and is presented here for viewing purposes only.