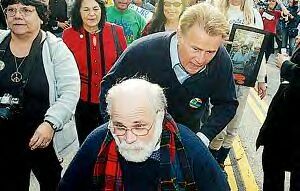 Photo by Jim Ruymen/ Reuters
Martin Sheen leads protest on streets of Los Angeles
From Nicholas Wapshott in New York
The actor Martin Sheen led protesters against a war with Iraq on to the streets of Los Angeles at the weekend in the largest peace demonstration in the city since the Vietnam War.
Sheen, these days better known to the millions of viewers of The West Wing as President Bartlet, addressed a 5,000-strong crowd outside the Federal Building in central Los Angeles. "We are telling the world that we are patriotic Americans but we do not support war with Iraq," he said. "A lot of people have been silenced for a long time, but that is ending."
Sheen marched at the front of the parade pushing in a wheelchair Ron Kovic, a paralysed Vietnam veteran and peace activist. Slash, the former lead guitarist of Guns-n-Roses, the singer-songwriter Jackson Browne, and Maxine Waters, a Democratic Los Angeles congresswoman marched with them.
Mr Kovic, whose autobiography, Born on the Fourth of July, was made into a film starring Tom Cruise, told the crowd that the US Government was leading the country into a situation that can only hurt us as a nation.
He added: "We love this country. Thats why were here. This is about democracy and were against this war."
Mr Kovic said that the Los Angeles protest, which will be followed by marches in Washington and San Francisco next weekend, would lead to one of the greatest anti-war movements in the history of the United States.
The marchers, who included Muslim women in headscarves and children wearing T-shirts with peace symbols, chanted "No Blood for Oil" and "Stop Bush Now", and carried banners saying "Mr Bush, don't repeat your daddy's mistakes", and "Bush is the real terrorist". They burnt incense and banged drums.
Police said that the protesters were noisy and good humoured, and they made no arrests.
Oscar Sanchez, a student from El Salvador who believes the Iraq conflict is about oil, rode a bicycle pulling a cardboard tank bearing the names of two American petrol companies and a "Just Married" sign.
Natalie Wilson, 23, of Long Beach, said she felt the march would keep people sane.
"We feel powerless, but when you see people here who are like-minded, it feels good," she said.
The latest opinion polls suggest that two thirds of Americans would back a war with Iraq if such a move had international support, but that less than half would do so if America had to go it alone.