From San Francisco to Washington, D.C., from Paris to Tokyo, hundreds of thousands of demonstrators took to the world's streets Saturday to protest potential military action against Iraq by the Bush administration and its allies.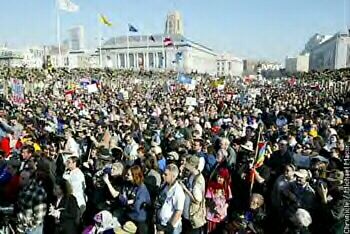 Tens of thousands of demonstrators filled San Francisco's Civic Center Park Saturday. Chronicle photo by Michael Macor
In San Francisco, peace activists started their march up Market Street at 11 a.m. and started arriving at City Hall at noon to listen to speeches by local and national dignitaries. Among them was Rep. Barbara Lee, D-Oakland, who has gained allies and admirers since her vote on Sept. 14, 2001, as the lone dissenting voice in Congress against giving President Bush open-ended authority to wage war against terrorists.
She took the stage to chants of "Barbara! Barbara!"
"The silent minority has become the vocal majority because of you," she told the cheering crowd.
Lee invoked the memory of King, whose birthday is being celebrated Monday, urging the crowd to help eradicate the "axis of evil - poverty, racism and war. "
Martin Sheen
Perhaps the most popular speaker was the man who isn't president, but plays one on TV: Martin Sheen.
He orated with the vim and vigor of a religious revivalist, greeting the throng "Peace be with you."
"We want to end our long and shameful silence here today and say 'No' to death and war," Sheen shouted. "From this time forth, may all our thoughts, words and deeds be a nonviolent resistance to all violence. Let my country awake."